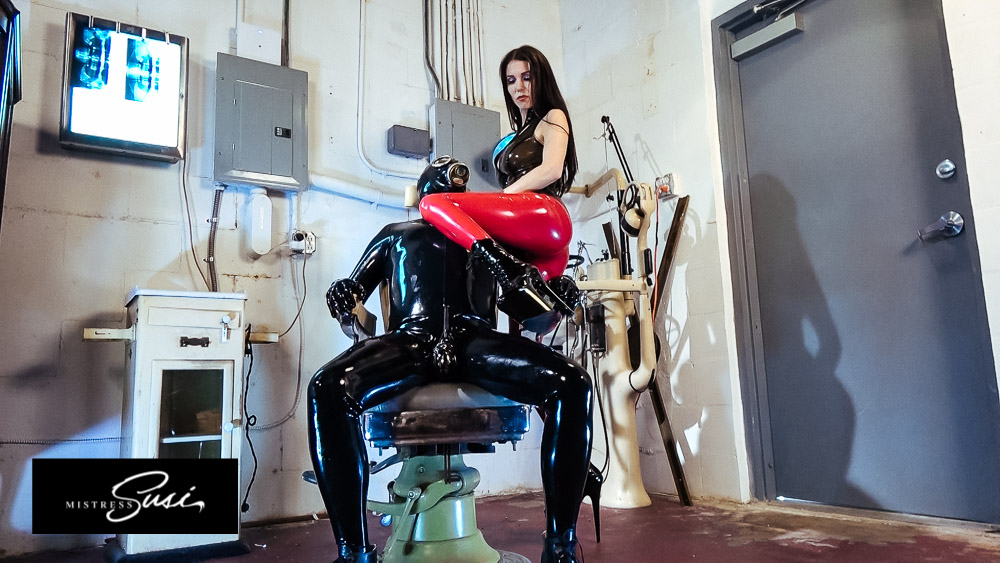 He came to me as a guy in to latex. He had some experience, a good collection of rubber and was looking for a Mistress to train him in rubber. I knew from the start he would be made into my rubber doll. Our first meeting trained him as a rubber slave but started implanting ideas about him being feminized. He didn't like the idea at all and this only excited me more. He would struggle to accept my forced transformation into a full latex doll but I knew he would eventually accept his fate.
First, he needed to get the shape of a rubber doll, so I put him on a strict diet and exercise routine. He worked hard to please me and soon was trimming down. Under close supervision, I molded his once out of shape body into a leaner one that would be perfect for my new rubber doll. He has made much progress but still has work to be done. I will not stop till he has the perfect feminine shape. This part was easier on him being he was thinking it was for him to be in better shape over all. Little did he know, I was forming him into my new doll.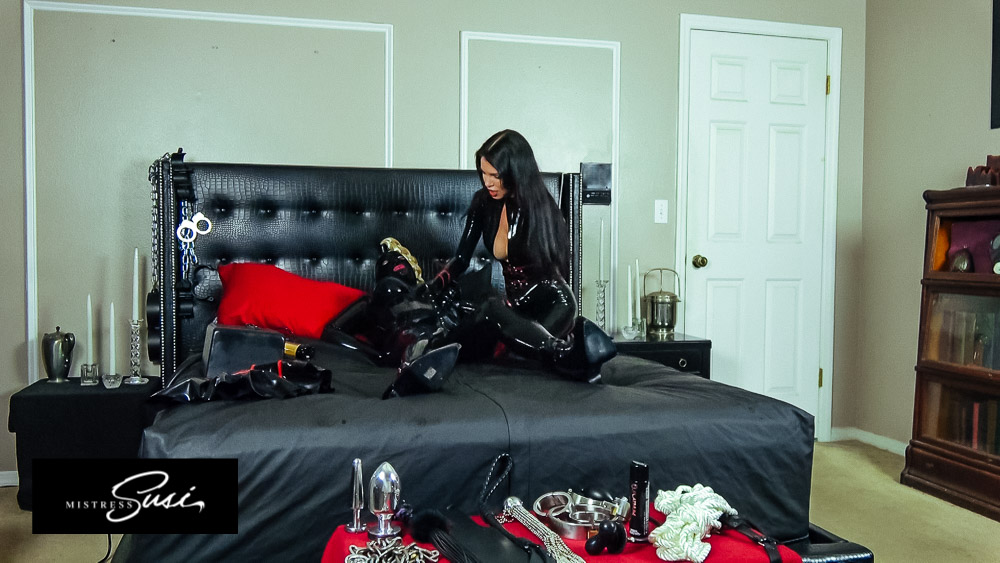 I quickly realized that he was going to struggle with the next steps so I took control of his cock with chastity. He was jerking off way too much and the chastity would make him much more susceptible to my orders. I also wanted to start shrinking his cock so he fit the doll image more. He already didn't have a big penis and knew the extended time in the small chastity cage would work well. He struggled a lot with this first and had to build him up to longer and longer periods of time in it. Soon though, I had him in chastity all the time. He was well on the way to becoming my objectified latex doll.
The next step was to get him to start collecting the rubber that would become his new latex persona. I ordered him to start collecting his new Doll latex. Full rubber catsuits with tits, latex hoods with ponytails, a tight rubber corset, sexy latex lingerie and high heels. Once I had him with a full latex doll outfit, I began his corset training. I needed his waist to be just as curved as the large tits on the boobsuit. Having his cock locked up, I could get him to do almost anything now. I started with him/her having to wear the corset a couple hours a day but soon worked up to ordering him to sleep in it once a week. He/she was fight this less and less and I felt he had finally accepted his fate.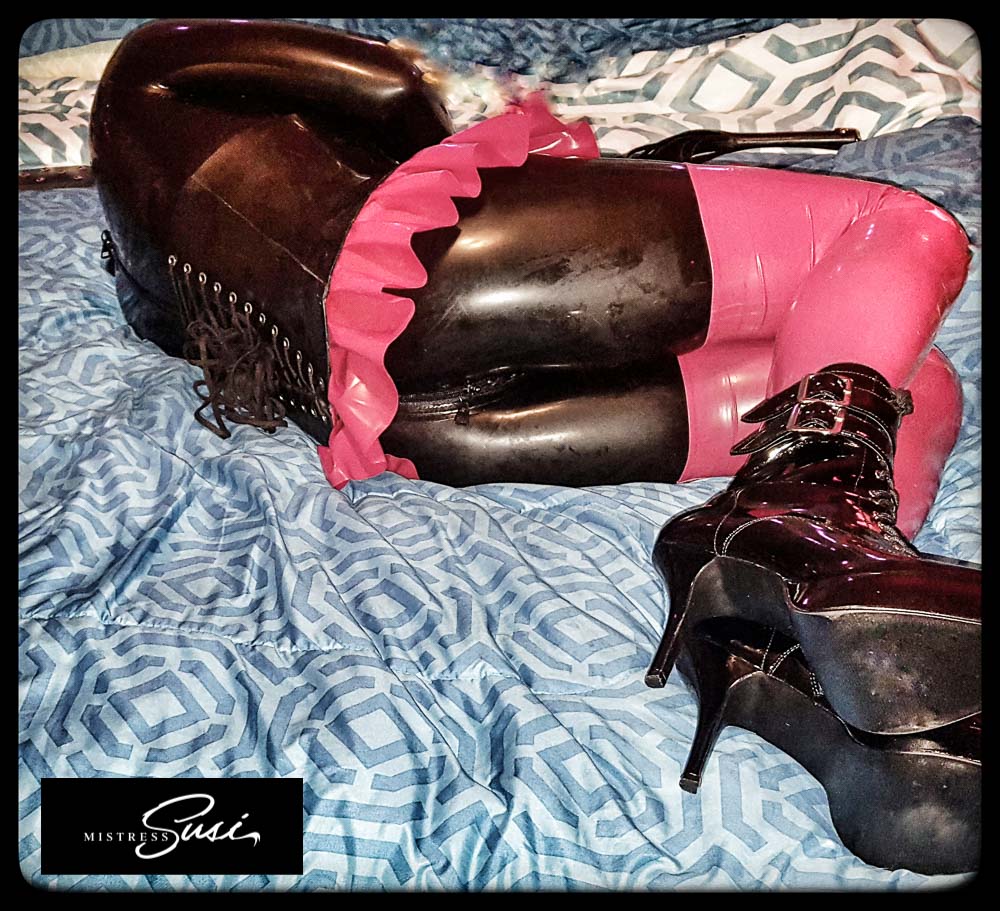 Before I finished his/her corset training, I began her heel training. S(he) was ordered to wear the heels when at home. Starting with an hour at a time and adding more and more weekly. She was forced to lock them on and walk longer and longer distances. She was a quick learner and was soon wearing them all the time when at home. My doll was progressing on schedule.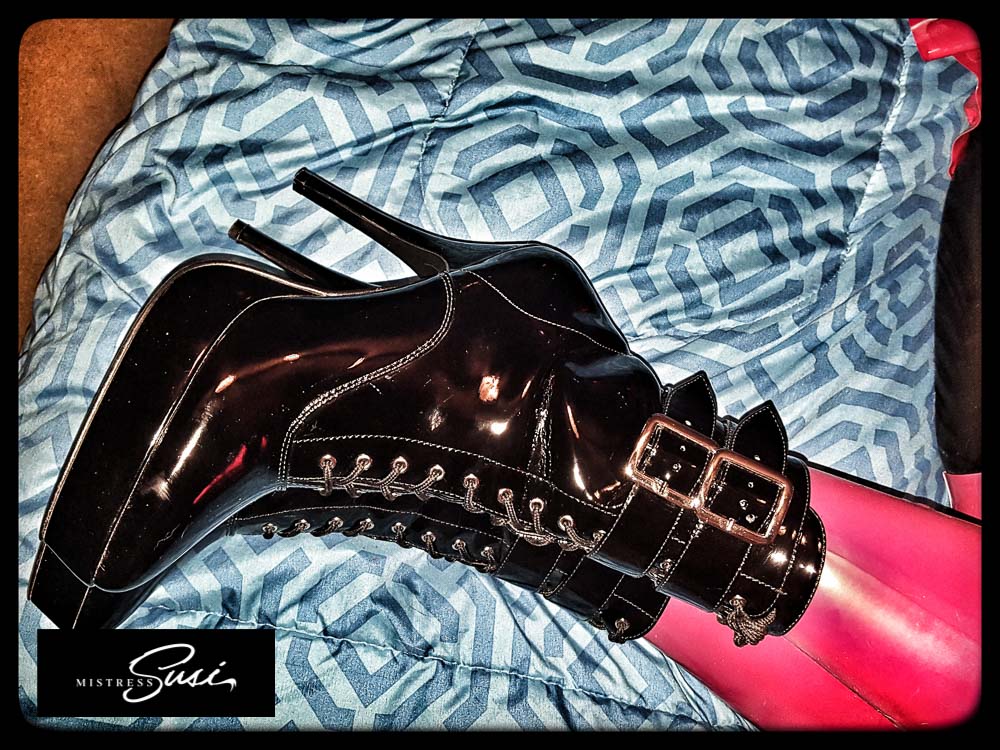 Once I had good progress with her shape and agility in high heels, I moved on to make-up training. This was going to take a lot of work and patience. She had no skill and she really hated this. Even with the constant chastity, I had to punish her several times for disobedience. After many weeks of practice and close inspection, I had her skilled at doing full make-up for any type of event. Watching her add to the make-up collection on her own, showed me she was getting more into being feminized by me.