This is the story of a long term relationship and development with forced bi and feminization.
About a year after we met first, he was taken to a first videoshooting: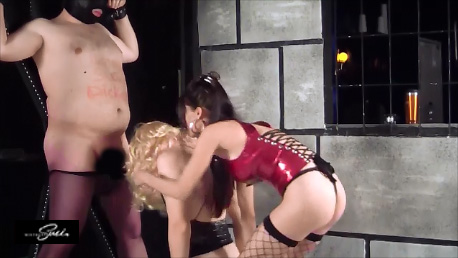 This was in west germany, Selm. This was the first time where he was crossdressed while someone else was there as well. In another clip I had a naked guy with big cock strapped to a cross and although I really pressured my sissy with an inflatable plug up his butt, the Slut Candy refused to suck his cock.
2015 Summer, the next videoshooting:
Three years after the first shoot, in Stuttgart with Victoria Valente and another close Slave of mine, it continued.  While he was fixed to a cross as well,with red ballet boots covering his hands and arms, he was quite helpless. We had Slut Candy in lingerie, high heels, decked out with makeup and wearing a wig,walk in and show off. After he practiced some feminine walking, we applied a lot of pressure to force him to suck the slave cock which did not want to get hard.
You can see the video here:
https://www.clips4sale.com/studio/57901/11558711/Mistress+Susi+and+Lady+Valenteare+training+her+bitch